Ontario Salmon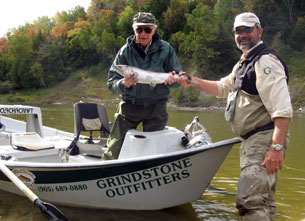 Pacific salmon in the Great Lakes have long been the target fish for the open water anglers trolling from expensive boats with down riggers. This renowned fishery developed almost by accident. In the late 1950's and early 60's, an alewife boom precipitated the need to introduce a predator species in the lakes. When the little bait fish washed up along the beaches, they caused quite a smell in both Canada and the U.S. and something had to be done.
Enter the chinook and coho salmon. Lake Michigan was the first to introduce coho's and after that strategy proved successful, they followed up with the larger chinooks. The idea being, the bigger the fish, the bigger the stomach. At any rate, these salmon began spawning in the tributaries and lo and behold, salmon started to show up on the rods of unsuspecting anglers looking for walleye and lake trout (both native to the Great Lakes). Since then, in much the same fashion as steelhead became widespread, sportsman groups stocked chinook, coho and pink salmon in all five of the big lakes and the fishery boomed.
Chinook, Pink, Coho and Atlantic Salmon
Currently, chinook salmon make up about 97% of the Pacific species, but some coho's in the lower lakes continue to thrive and pink salmon in Lake Huron are doing very well. Atlantic salmon, the only native salmon to the lakes (Lake Ontario), have proven to be a more difficult re-introduction, but programs are under way to restore this once prolific sport fish to Lake Ontario. The only real success story with Atlantic's comes out of the St. Mary's River in Sault St. Marie and anglers travel there annually to chase The King of Game Fish.
Lake Ontario Waters
Lake Ontario holds incredible populations of chinooks and for the anglers looking for a true trophy, this is the place. Fish in 20 pound+ range are taken every year and the chance for 30 pound+ fish is very good. Typically, the first big rain in mid-September will bring them in and any time up until the middle of October will produce fresh fish worth photographing.
Book a Guided Fly Fishing Trip with Grindstone Angling
Contact us today to inquire about a guided trip on any of the great rivers in Ontario. You can call the shop at 905-689-0880 or using our guide trip inquiry form below. You can find out more about our services on our Ontario Fishing Guide Service page.