Ontario Steelhead
Great Lakes Steelhead History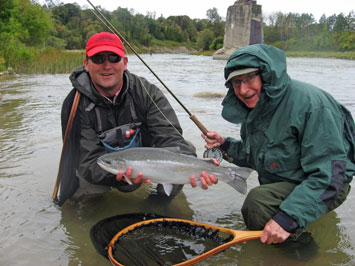 Sometime around 1876, the first steelhead eggs were transported from the McCloud River in California to the Great Lakes and the resulting parr were stocked in Michigan's Au Sable River. This initial stocking turned out to be a huge success and soon after, Ohio, Wisconsin, New York, Pennsylvania and Ontario-based sportsman groups began to follow suit. By the 1960's, the steelhead had taken hold and occupied a niche in all five of the Great Lakes, providing sport to anglers well beyond what anyone involved in the initial planting could have anticipated.
Our Steelhead Season
Southern Ontario's steelhead season typically begins in late September and continues through late May. The only thing that keeps us off the river is when the weather turns too cold to bear and the equipment can't tolerate it. These conditions occur most often on the Huron and Georgian Bay tributaries, but the north shore of Lake Ontario stays open long enough to make it worth mentioning. February and March often provide enough warmer days to get out and shake out the cob webs.
Grindstone Specializes in Steelhead
Steelhead are the glamor fish for fly fishers in Ontario and Grindstone Angling and Outfitters specialize in steelhead. Whether it's intercepting the earliest runs in September, capitalizing on the peak of the action in November, or searching for kelts in May and June, we can put you onto fish in some of the region's most spectacular rivers. Steelhead occupy more than half of our eight month season, so to say that we're serious about steelhead is an understatement. Just ask our families! The time we put into location scouting, watching the weather, and tying flies all contribute to what our clients keep returning for: Success!
Book a Guided Fly Fishing Trip with Grindstone Angling
Contact us today to inquire about a guided trip on any of the great rivers in Ontario. You can call the shop at 905-689-0880 or using our guide trip inquiry form below. You can find out more about our services on our Ontario Fishing Guide Service page.